Success Story 3 - Ms. Dolores Penias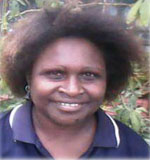 Ms Dolores Penias was recruited by the Department of Finance and commenced work at the East New Britain Provincial Treasury office Kokopo, on the 14th March 2003. She was initially hired as a Finance clerk, but then proved to her Treasurer that she can be counted on to assume greater financial management responsibilities.
Ms Penias was rotated to various finance & accounting positions at the Provincial Treasury HQ, including accounts examiner, PGAS systems administrator, bank reconciliation officer, certifying officer and in 2004 ? 2005 acted as the Provincial accountant for the Province. The officer is intelligent, self managed and always eager to accept new tasks and finance/accounting practices. In the year 2006 she was promoted to her substantive position of ?Banking Agency officer? Gr.12 for Rabaul District. She did not actually move to the position because her superior recognized her potential and value to continue to support provincial head quarters and the four districts on specialized accounting and ICT services.
By the year 2007 Ms Penias was already performing dual finance & accounting rolls so the Provincial Treasurer again, rewarded her with a two year paid study leave .Her 2008 ? 2009 academic performance at the Kokopo Business Collage was outstanding, where apart from graduating with a Diploma in Business studies and Dux student in Accounting, Ms Penias received the Excellence Award from CPA of PNG.
Ms Penias says, she acknowledge and convey her sincere gratitude to the Provincial Treasurer and PCaB II project for the trust and support accorded her to achieve progress & competency in performing to standard the various activities at workplace. Infect, Ms Penias is amongst other PT and DT officers nominations submitted to PCaB management for accreditation by FTB.
She partially attributed her success to having been trained and introduced to valuable ICT operational tips by PCaB?s professional ICT trainers, like Witari and Nelson, thus confident and satisfied to have mastered required skills to compile monthly bank reconciliation reports and Annual Financial Statements on her own.
Ms Penias has served the department of Finance for 10 years now, and says she has nothing to regret as her rate of advancement in the organization is very satisfying. Her dream is to eventually become the Provincial Treasurer for East New Britain or one of the NGI provinces, one fine day.