Success Story 4 - Mr. Eliuda Solomon Tommy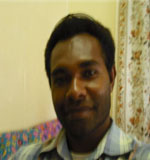 Mr. Eliuda Solomon Tommy was recruited by the Department of Finance as a ?Revenue Clerk? Grade 12 and commenced work at the Kokopo District Treasury, on 14th April, 2003. He holds a Diploma of Business Studies/Accounting from Devine Word University (DWU) 2000-2001.
Mr. Tommy was rotated to various finance and accounting positions at the District Treasuries positions which include District Examiner, Bank Reconciliation Officer and District Cash Officer from 2003 to 2005. The officer is intelligent, self managed and always eager to accept new tasks and finance accounting practices. In 2006 he was promoted to District Accountant Kokopo, a position held until 2008.
From the year 2009 until release to do further studies at IBS, he was acting as District Treasurer, Rabaul, and accepting the challenges and responsibilities of the position. However, his substantive position is District Treasurer Pomio which he was promoted to in 2010. Due to his good all around performance and the potential at the District Treasuries level, his superior the Provincial Treasurer rewarded him with a two years paid study leave 2012 ? 2013 to do Bachelor in Business Accounting at IBS..
Mr. Tommy said that his assessment of the PCaBII Programs as an officer of the Rabaul District Treasury office and as a Provincial Base Trainer appreciate the support from District & LLG Support Advisor (DSLA), PCab II Project, in carrying out his planned programs professionally and achieving program timeframe. He commended PCaBII for aligning him with programs especially to assist in the training, coaching and other overall programs under the office in the Districts mainly for sustainability.
Mr. Tommy says, he acknowledge and convey his sincere gratitude to DLSA and PSA for the support, coaching and on the job training accorded him to achieve progress, competency and professionalism in performing to standard the various activities such as bank reconciliations, annual financial statements, work book and district executive finance reports at workplace. Infect, Mr. Tommy is amongst other PT and DT officers nominations that had been submitted to PCaB management for accreditation by FTB. His competencies relate to producing financial management mandated reports (monthly reconciliations and annual financial statements) computing accounting and workbook. DLSA gives me advice on areas of budget requirements in reporting on the LLG and District funding and is always monitoring how LLGs especially are doing with their internal revenue performances..
His dream or future ambition is becoming Provincial Treasurer and Financial Management Accountant (Public or Private Sector).
Mentoring through DLSA and TCSA has given me confidence in achieving the followings:
Strengthening my confidence in completing and clearing outstanding issues in the monthly bank reconciliations for District and Local Level Governments and Annual Financial Statements.
Completing District Treasury?s annual work plan and quarterly finance executive report.
Assisting DLSA and LLG Manager in successfully conducting financial management and development of LLG/Wards on Ward 5 Years Rolling Plan and Project planning/costing for Rabaul District/LLG?s.
He concluded by saying that the PCaB II project is the just the right approach in addressing these problems as its programs and funding are tailored to it. Thus for the purpose of sustaining these programs the District Administration ?Finance and Audit sector and the District Treasury office should be given the responsibility to make this area as budgeted program in their annual activity plans so they do District and LLGs inspection ,training, awareness and coaching on areas they identify as per financial management is concerned.