Success Story 5 - Mr. Andrew Atopare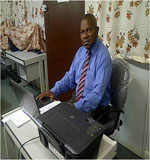 Andrew Atopare is one of the Senior Officers in the Eastern Highlands Provincial Treasury Office. He completed his Higher School Certificate in 1983 and joined Department of Finance in 1989 as a Registration Clerk, Senior Examiner in 1997 and in 2002, he was appointed as a District Accountant in Okapa District.
While occupying the position of the district accountant, he pursued his studies at the PNG Institute of Public Administration in Port Moresby. He completed his Diploma in Accountancy in 2005.
After successfully completing his studies he returned to his position as a district accountant but was recalled to the Provincial Headquarters where he currently holds a position as the Administration Coordinator, providing necessary logistical and other relating support to the Provincial Treasurer for well over seven years to date.
PCaB's Support Service was introduced in second quarter of 2008 in Eastern Highlands. While he was coordinating administrative programs in the province, he had second thoughts about PCaB activities which were quite irrelevant to him so he did not attend any of PCaB?s organized programs until 2011 where he was offered a position to act as the District Treasurer in one of the provinces in PNG.
Upon realizing this fact in 2011, he admitted regrettably that he had missed the golden opportunity because he was not competently skillful in preparing mandatory reports using computers and etc. A lot of opportunities were made available to him to part take in PCaB programs but due to his ignorance and confinement to the delegated area of responsibility, he missed out on a lot of very good and rewarding opportunities.
He then later requested if PCaB could enroll him for PCaB?s planned Basic Computer Skills Training (BCST or ICT Training) focus around Microsoft Word & Excel respectively which he lacked knowledge on. After consulting PCaB?s ICT Advisor, Mr. Nelson Nakula, Andrew was enrolled to the training. He attended the training and was quite overwhelmed with amount of knowledge he acquired during the one week course. He expressed so much gratitude and appreciation to PCaB for the opportunity given to him and commending the Project for it great initiative in providing ICT trainings.
Soon after the program, Andrew bought himself a computer out of his own pocket and continued to practice on his Word & Excel programs skills and knowledge with the assistance of the manuals provided from the training. On a few instances, Andrew approached PCaB to provide some mentoring and coaching and now he is well able to apply his computer knowledge to write up and print his own letters, compile bank reconciliations and also prepare accounts for the Seventh Day Adventist Church in Kabiufa using the two mentioned computer applications and many more.
After assessing his competency level in computing, PCaB site advisors slotted Andrew in the On-Job-Training (OJT) programs to master the skills in compiling Annual Financial Statements (AFS) and Bank Reconciliations. Although he does compile these reports, he has above all acquired the necessary skills and for the first, he was part of a team of officers who compiled the 2011 Annual Financial Statement for Eastern Highlands Provincial Government. Current, Andrew is preparing Bank Reconciliations for one of the accounts in the Provincial Treasury Office. He is able to effectively and efficiently prepare these reports with minimal supervision.
In conclusion, Andrew is now prepared to take up any new challenges or opportunities that may arise after having acquired the skills through PCaB supported programs.